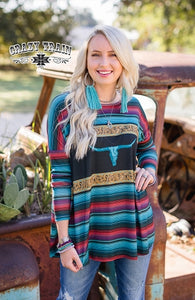 This CrAzY TrAiN serape top  is a comfortable all year rounder! SUPERB MIX OF southwestern flair  🤩
Could easily become the most comfortable n favourite easy to wear top-
Hang loose n free or top it off with a hip belt to give you a more dressed up finish ….. easy !!!! 
SMALL
LENGTH [@BACK]: 26"
CHEST/BUST: 21.5"
NECK OPENING: 7"
SLEEVE LENGTH: 21"
MEDIUM
LENGTH [@BACK]: 26.5"
CHEST/BUST: 22.5"
NECK OPENING: 7"
SLEEVE LENGTH: 21"
LARGE
LENGTH [@BACK]: 27"
CHEST/BUST: 23.5"
NECK OPENING: 7"
SLEEVE LENGTH: 21"